2019 Institute Annual Report
An Exciting Period Of Transition Bolstered By A Legacy Of Excellence
Legacy of Excellence Provides a Strong Foundation as New Chapter Begins
Since its founding, Georgia Tech has been devoted to serving our community by driving progress. We see technology not as an end in itself, but as a means of improving the human condition. We educate scientists and engineers, professionals, business and policy leaders, who can leverage the power of science and technology to create economic opportunity and help us all live healthier, safer, more productive, more enlightened lives.
Our impact has never been greater. We educate more students, conduct more research, and contribute more to our local economy than ever before. Our graduates are being sought by the most innovative companies in the world and are creating their very own. The story of Georgia Tech's progress continues to be told from multiple perspectives — from our ever-burgeoning physical presence, both locally and overseas; to the numerous accolades amassed by our faculty; to the successes of our alumni and their companies. Our advances continue to be truly impressive, but more than that, they continue to be driven by a key factor that has remained consistent: our commitment to making a difference.
Under the leadership of President G.P. "Bud" Peterson, the legacy of the past decade certainly demonstrates that commitment at every turn. The proof manifested in areas such as the drastic increase in enrollment, with undergraduate applications more than tripling and graduate applications doubling; four consecutive years of a noteworthy first-to-second-year retention rate of 97%; an exceptionally successful capital campaign that exceeded its goal by 20%, raising more than $1.8 billion; total research expenditures and other sponsored activities nearly doubling from $532 million in FY 09 to almost $978 million in FY 19; and Georgia Tech being invited to join the Association of American Universities, the most prestigious higher education association in the world. Since 2012, Tech Square has grown dramatically, with the establishment of 35 corporate innovation centers and research labs. The latest addition to Tech Square, Coda, a 755,000-square-foot high-rise that houses the Institute's high-performance computing center, opened in May 2019.
Such examples of excellence can serve as a foundation from which Georgia Tech will continue to live up to its motto of Progress and Service. Our presidential transition signals the successful completion of a strategic plan cycle that began in 2009 and the beginning of a new one. In the next few months we will reach out to our entire community to craft a new vision for the next decade, build on our strengths, and take a holistic look at how we want to make our mark on the world from this point.
As one of the world's great technological institutions and most respected public universities, the Institute is a strategic asset for Atlanta and Georgia. It is an engine of economic growth, an invaluable national resource in our system of science and technology. And it is a global innovation hub that holds the key to helping us deal with some of society's most pressing challenges. It is in places such as Georgia Tech, with extraordinary talent and a strong mission of public service, that we will find our best path forward.
It is truly a great time to be a Yellow Jacket. As Georgia Tech's 12th president, I am grateful for the opportunity to unite our many constituencies as we build upon the foundation that those who came before us so skillfully laid.
—Ángel Cabrera, President, Georgia Institute of Technology
Outgoing President G.P. "Bud" Peterson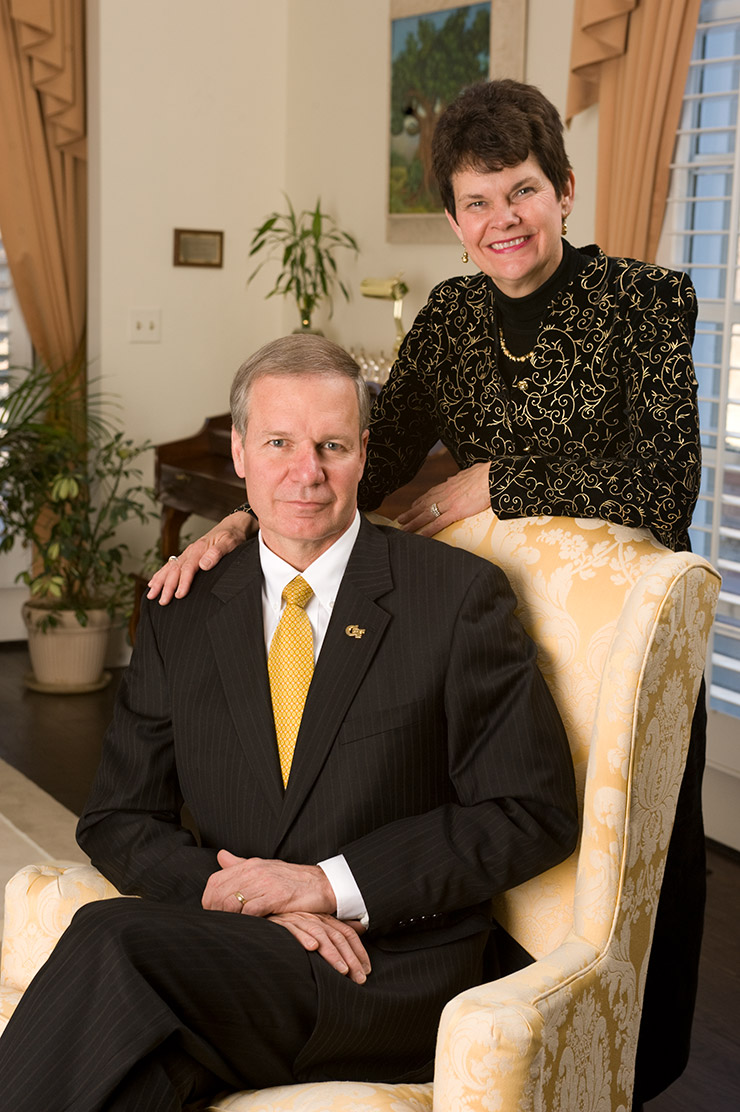 Valerie H. Peterson


A Legacy of Caring for Students' Well-Being

Students, alumni, faculty, and staff know firsthand how devoted to the Georgia Tech community Valerie H. Peterson was during a decade of service as first lady. Mrs. Peterson became renowned across the Atlanta region and the state as a tireless ambassador for and advocate of Georgia Tech and its people.

Among the countless campus initiatives and causes that Mrs. Peterson enthusiastically supported over the years, one effort, in particular, stands out: the mental health and well-being of Tech students. As advisory
chair for Tech Ends Suicide Together, Mrs. Peterson devoted significant amounts of her time and energy speaking on campus and at national events, proving to be an invaluable partner to the Georgia Tech Counseling Center and the Division of Student Life. Tech Ends Suicide Together is a plan based on an international initiative that represents a paradigm shift from suicide prevention to suicide elimination. Working in close collaboration and cooperation with campus colleagues, students, and the entire Georgia
Tech community, Tech Ends Suicide Together represents both an aspirational goal and a call to action to create a campuswide linkage of programs and support that work together to end suicide at Georgia Tech.

Although her tenure as first lady has come to a close, Valerie H. Peterson will be remembered for her passionate and inspiring leadership and her compassionate devotion to Tech's students.
Outgoing President G.P. "Bud" Peterson


Inspired Leadership Spurring a Decade of Strategic Growth

On August 31, 2019, G.P. "Bud" Peterson concluded his tenure as Georgia Tech's 11th president, having announced, in January, his plans to return to teaching and research.

The Peterson era will undoubtedly be remembered as a seminal age — a time characterized by thoughtful and robust planning for Georgia Tech's future; visionary thinking to help realize long-term strategic goals; and dynamic and innovative engagement with the state, the nation, and the world.

Peterson began his presidency by encouraging the entire Tech community to look beyond current constraints and develop a bold 25-year Strategic Plan, Designing the Future. This plan would serve as an important framework for many of the advances and accomplishments under his leadership and was aligned with the launch of the public phase of the $1.5 billion Campaign Georgia Tech.

Leading the charge to strengthen endowments for need-based undergraduate scholarships, President Peterson and first lady Valerie H. Peterson focused their efforts on significantly expanding the G. Wayne Clough Georgia Tech Promise program. Since 2009, more than 550 Tech Promise scholars — all of them Georgia residents, many of them the first in their families to attend college — have earned Tech degrees.

This focus reflects the Petersons' passionately held belief that Georgia Tech offers students the experience of a lifetime and a lifetime of opportunity. They have consistently demonstrated a commitment to encouraging, mentoring, and inspiring the next generation of leaders.

To honor the decade-long legacy of Georgia Tech's 11th president, the G.P. "Bud" Peterson and Valerie H. Peterson Scholarship Endowment Fund was announced at the June meeting of the Georgia Tech Foundation. The fund was established to help students with demonstrated financial need from across the nation. The Foundation is directing a grant of $5 million to support the initiative. Combined with initial gifts and commitments of over $12 million provided by more than 100 Foundation trustees, along with members of the Georgia Tech Advisory Board and the Alumni Association executive committee, it will be the largest single scholarship endowment in Georgia Tech's history.

Future recipients of the Peterson Scholarship will join first-year classes that are growing increasingly strong academically and more diverse. In the past decade, overall Tech enrollment has increased by 69%. The number of women in the first-year class has increased from 32% to 40%, a historic high.

During the Peterson era, the Institute's Atlanta campus has grown to meet the changing needs of these gifted students. With 21 new facilities and 25 renovated facilities since 2009, the campus has added nearly 3 million square feet of cutting-edge space where Tech students, faculty, and researchers are pushing the boundaries of their disciplines. Research expenditures have increased by 78%, and Tech is on the leading edge in robotics, cybersecurity, manufacturing, energy, biomedical engineering, and many other disciplines.

Augmenting the events on the Atlanta campus, Georgia Tech experienced an expansion across the globe during the past decade that was unparalleled in its history. From Europe, to Asia, to Latin America, the Institute has established new programs, research centers, and campuses. This growth has created extraordinary new opportunities for students to broaden their horizons and sharpen their skills to compete in a global economy, with 58% of Georgia Tech undergraduates having an international experience before graduating.

In addition to his focus on students and the facilities that support them, Peterson also partnered with economic development agencies to attract businesses to the state and promote economic growth. These efforts have brought thousands of high-quality, 21st century jobs to Georgia and to metro Atlanta.

The story of the Peterson decade will be remembered as one in which the Institute became a globally recognized leader while remaining firmly grounded in its Georgia roots and the heart of Atlanta.
Incoming President Ángel Cabrera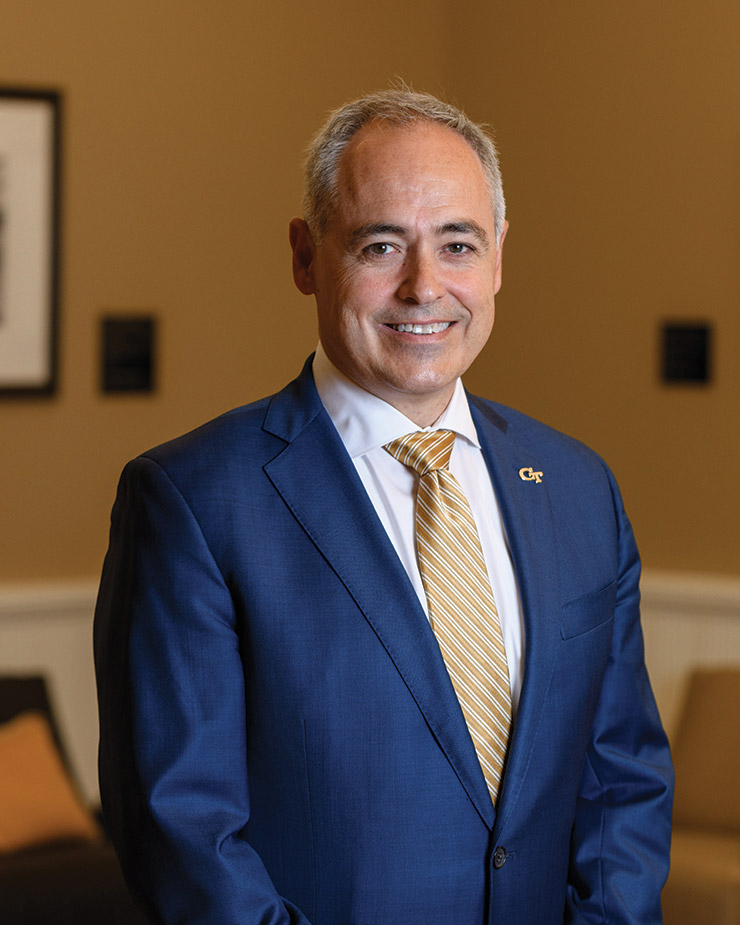 "It is an absolute privilege to be asked to lead this remarkable institution into its next chapter."

—Ángel Cabrera
Incoming President Ángel Cabrera


Tech Alumnus Assumes Presidency

A new chapter in Georgia Tech's 134-year history started on September 1, 2019, when Ángel Cabrera began serving as the Institute's 12th president.

Prior to his arrival at Georgia Tech, Cabrera had served as president (since 2012) of George Mason University (GMU), the largest public university in Virginia. During his tenure, GMU accounted for more than half of all public university enrollment growth in Virginia in the past decade. Under Cabrera's leadership, GMU joined the top tier of research universities in the Carnegie classification and founded the Schar School of Policy & Government, the Institute for Biohealth Innovation (a U.S. Department of Homeland Security Center of Excellence), the Potomac Center of Environmental Studies, the Point of View Center for Conflict Analysis and Resolution, and a campus in South Korea. In addition, during his administration, GMU established partnerships to expand online programs and international recruitment, and received a credit rating upgrade. Also, philanthropic gifts more than doubled, and a $500 million campaign was successfully completed with a total of $690 million.

Prior to becoming president of GMU, Cabrera led Thunderbird School of Global Management (now part of Arizona State University) and IE Business School in Madrid. He has been recognized as a Young Global Leader by the World Economic Forum, a Henry Crown Fellow by the Aspen Institute, and was among Carnegie Corporation's 2017 class of "Great Immigrants."

Cabrera's educational background includes studies at Georgia Tech: He earned doctoral and master's degrees in cognitive psychology at Georgia Tech, which he attended as a Fulbright Scholar. He also has a telecommunications engineering degree (the equivalent of a B.S. and M.S. in computer and electrical engineering) from Universidad Politécnica de Madrid, which has also awarded him an honorary doctorate.

For most of the past decade, Cabrera has served on the Georgia Tech Advisory Board (which he chaired in 2011) and the Council for the International Exchange of Scholars (Fulbright program). He is also a member of the Council on Foreign Relations and has served on the board of NSF's Education and Human Resources directorate, the academic board of the Monterrey Institute of Technology and Higher Education in Mexico, as chairman of International Initiatives of the Association of Public and Land Grant Universities, and as past chairman of Virginia's Council of Presidents.

"Georgia Tech will continue to excel under the leadership of Dr. Cabrera," said University System of Georgia Chancellor Steve Wrigley. "His experience, skillset, and deep ties to his alma mater will serve the campus community well, and his vision for the future will help lead Georgia Tech to new heights."

Board of Regents Chairman Don Waters echoed similar sentiments, saying, "Dr. Cabrera is an excellent choice to lead Georgia Tech as its next president. I am confident that he will work diligently on behalf of students while advancing Georgia Tech's growth, priorities, and world-class reputation. On behalf of the Board of Regents, I welcome Dr. Cabrera back to Georgia Tech and look forward to working with him."

Cabrera is married to management scholar and Tech classmate Beth Fraser Cabrera and is the father of Alex (a Tech graduate and incoming doctoral student at Carnegie Mellon University) and Emilia (a junior at Harvard University). He described this latest development in his career as somewhat of a homecoming: "I am thrilled to serve as Georgia Tech's new president," he said. "My academic career was shaped here as was my personal life. My wife and I met in graduate school at Tech and our son, Alex, just finished his undergraduate degree here this year.

"In many ways, this is a wonderful homecoming for us. As a member of the Georgia Tech Advisory Board for about a decade, I have witnessed Georgia Tech's emergence as one of the leading technological universities in the world and admired its role in making Atlanta a thriving hub of innovation. It is an absolute privilege to be asked to lead this remarkable institution into its next chapter."

Cabrera is the first Spanish-born president of an American university.