The New York Times recently called us out for our lackluster performance in attracting low-income students. They were right. Indeed, the share of incoming first-year students at Georgia Tech who qualify for federal need-based scholarships (Pell grants) was 12% last year. This is down from over 20% a decade ago. (For comparison, more than 40% of Georgia students are Pell-eligible.)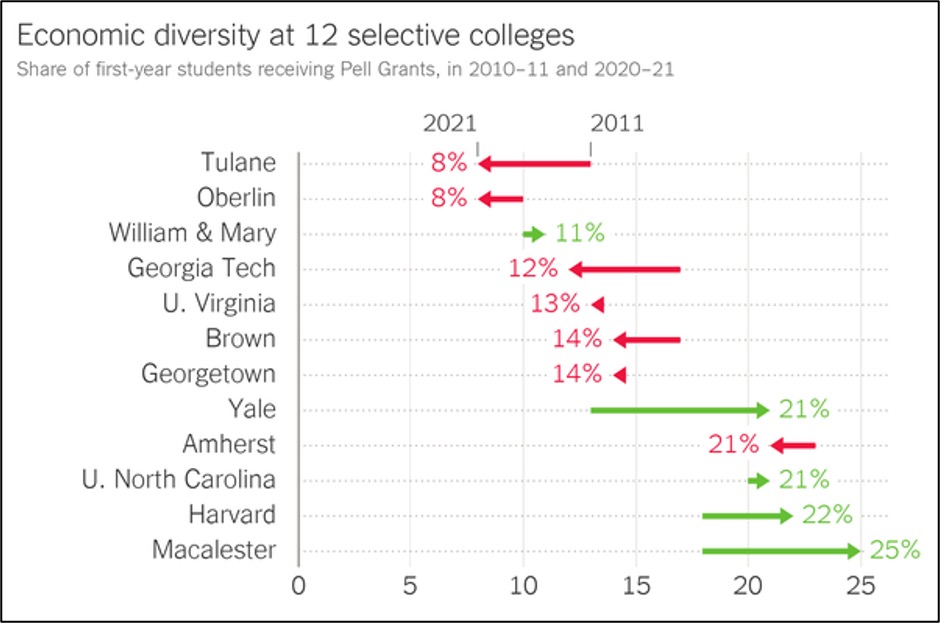 One factor that explains our decline in the share of low-income students is selectivity. As the chart below shows, the more selective a public university is, the fewer low-income students it tends to recruit. This is reflective of the many disadvantages low-income students face — access to the best resourced schools, extracurricular activities, summer enriching programs, test preparation help, etc. — which often make them less competitive when it comes to attaining admission to the top schools.
On the chart below, schools toward the top left are performing significantly worse than their selectivity would predict. Georgia Tech falls right where its selectivity would predict — it is one of the most selective schools in the nation and, as expected, serves one of the lowest shares of Pell students. But Berkeley and UCLA, the only public universities that are more selective than Georgia Tech, buck the trend and serve about twice as many Pell students as Georgia Tech proportionally. That's a good benchmark we should aspire to match.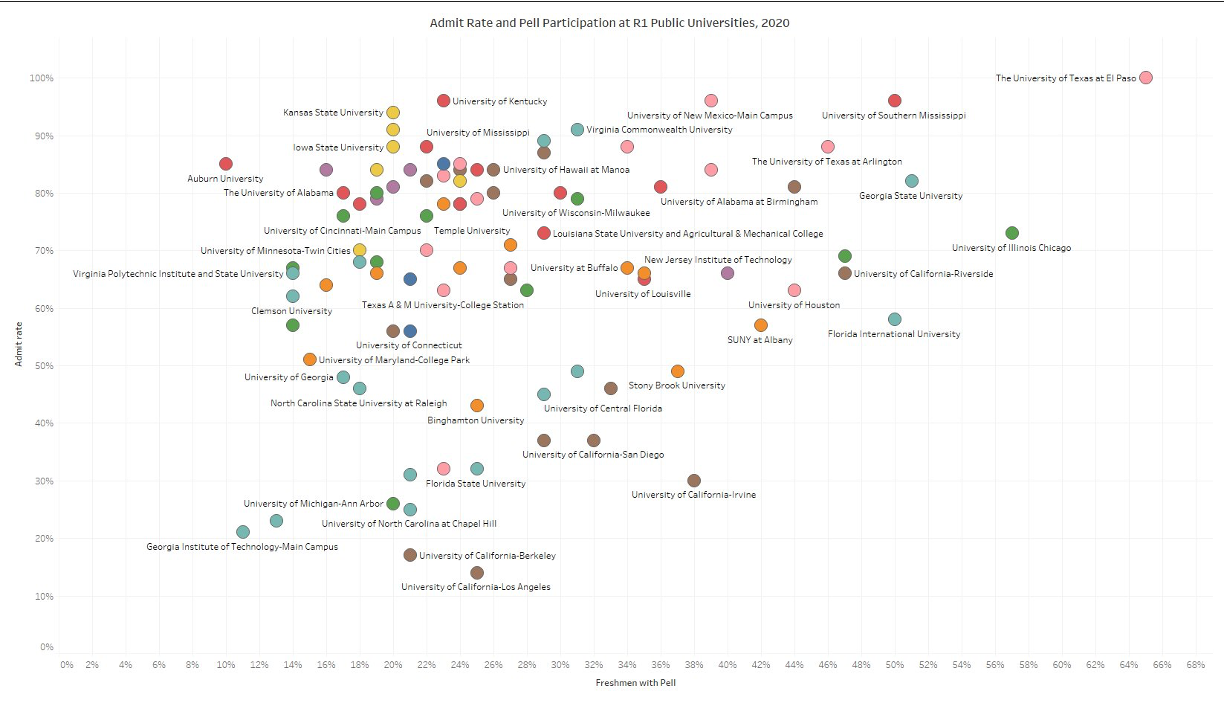 One of the things we have done to help is to keep the cost of attendance as low as possible. Since I arrived in 2019, we have not increased tuition and fees. In fact, last year, with the help of a major investment from the state, we were able to reduce tuition by about $1,000 (roughly a 7% reduction in nominal dollars or 21% when adjusted for inflation) — which is unheard of in higher education. Affordable tuition helps all students, but low-income students still face a significant burden. Here's the math.
The state of Georgia's HOPE Scholarship program provides $10,258 per annum to any eligible in-state student, of any income level, taking 15 credit hours per semester, as long as that student maintains a minimum 3.0 grade point average. Add the maximum Pell grant of $7,395 for students with the highest financial need, and a highly performing student in the lowest income tier would still be $10,931 short to cover Georgia Tech's estimated cost of attendance. (The Federal Work Study program can help reduce the gap by another $3,000.) In most cases, the financial gap is larger, as many Pell students don't qualify for the maximum grant or, like any student, may lose their HOPE Scholarship if their GPA falls below 3.0.
To help close the financial gap, we are raising private dollars for need-based scholarships. This year, we've expanded the G. Wayne Clough Georgia Tech Promise Program, which provides a debt-free degree to qualified Georgia students from families in the lowest income tier. To qualify, annual family income must be less than $55,500. However, since the funding of this program is limited to 75 first-year students (even after the expansion), the actual average family income for Tech Promise students is significantly lower. One of the most direct ways for us to serve low-income students is to raise additional private funds to expand this and similar programs.
There are other factors that make it difficult for low-income students to access the most competitive universities, and we have programs that help address some of them. But ultimately, the biggest barrier that low-income students face is money. Many times, a few thousand dollars can make the difference for a talented student to stay in school, graduate on time, and get their first high-paying job.
The possibilities are nearly limitless when these incredible students get their shot. Many of our most successful alumni came to Georgia Tech thanks to need-based scholarships and went on to create and lead great companies, innovate in countless fields and develop technologies that have made a difference for all of us. Some of them are now funding scholarships to give the same opportunity to others.
As a leading public university, we are committed to making sure all talented students have a chance. When we get it right, we act as an engine of social mobility, have a multigenerational impact on entire families, and create value for everyone. That's why we have made the main goal of our more than $2 billion Transforming Tomorrow campaign to raise money for need-based scholarships. I encourage you to reach out to us and find out how you can help us make a difference.