Comprehensive Administrative Review — Progress Updates
Comprehensive Administrative Review — Updates
---
To submit questions or offer suggestions for process improvement, email askcar@gatech.edu.
---
Jan. 9, 2019


Collaborative Solutions Workshop #4: Procurement, Travel, and Expense Management
On Wednesday the working group kicked off its final workshop, drawing subject matter experts from across campus to identify solutions that will enhance the policies, processes, and people who support procurement and expense management for Georgia Tech. Below, Interim Vice President for Institute Planning and Resource Management Jennifer Hubert welcomes participants.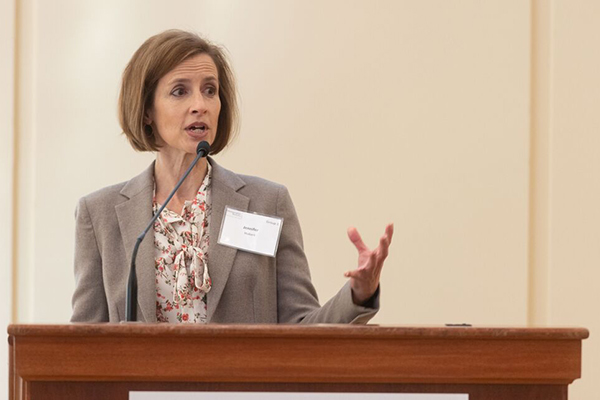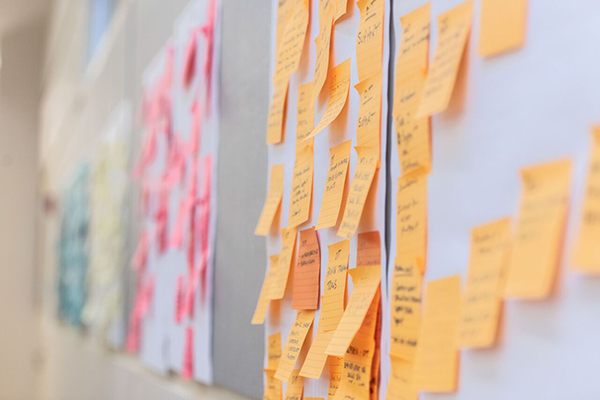 Familiar clusters of sticky notes lined the walls of the Student Center Ballroom, where emergent themes will inform the next stage of the working group's responsibility. Combining the survey data with insight gleaned from the workshops, the working group will now begin drafting its report for the decision group.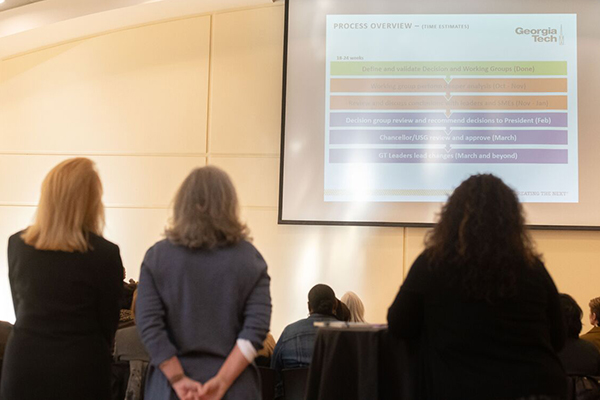 As part of the morning update, attendees reviewed the CAR timeline showing progress toward completion. Georgia Tech's proposed action plan will be submitted to the Chancellor for review in March.
---
Jan. 8, 2019


Collaborative Solutions Workshop #3: Information Technology
Community participation in the CAR continued for a second day, addressing the administration of information technology services on campus. Opening the day's exercise, Vice President for Information Technology Mark Hoeting called on his coworkers to draw upon their experiences to think creatively about how to effectively scale innovative solutions in a way that serves the entire Institute.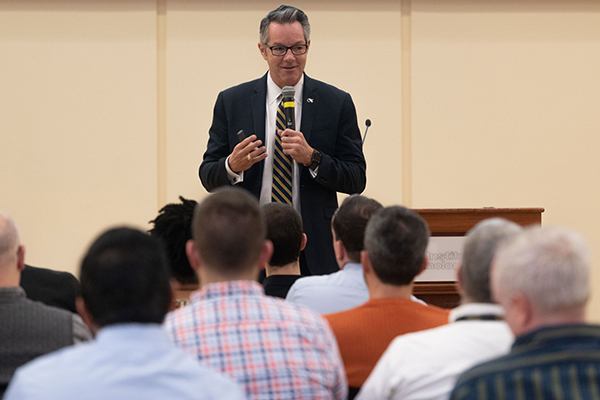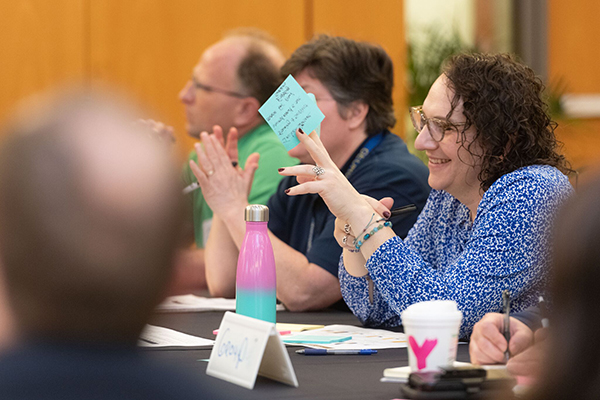 Marissa Jules (above), director of architecture and infrastructure, at one of the "solution stations." Major areas of discussion about information technology included governance, investments, technology solutions development, and customer service. Similar to previous workshops, participants were asked to articulate the IT functions that were working well, those that needed improvement, and those that were deprecated.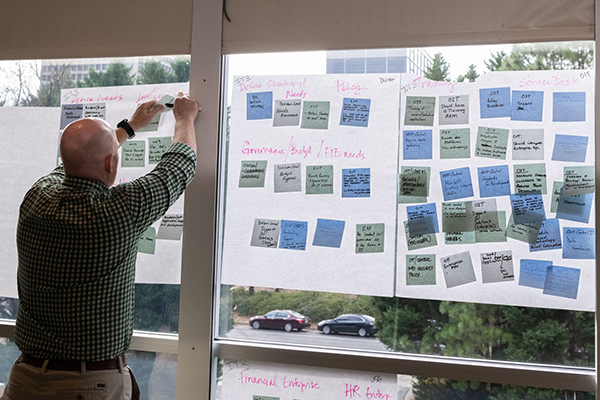 Some participants asked about the inherent tension in an exercise that encourages first-class administrative practices but also seeks to reduce administrative costs. Executive Director of Strategic Consulting Sonia Alvarez-Robinson explained that the goal of CAR was "not to reduce expenses, but to redirect our institutional investments, particularly where it benefits student instruction and support."
---
Jan. 7, 2019


Collaborative Solutions Workshop #2: Communications, Marketing, and Events
The CAR working group partnered with the Office of Strategic Consulting to hold the first of three consecutive days of feedback collection as part of its effort to solicit subject matter expertise on each of the four areas identified in the Comprehensive Administrative Review. First up: communications, marketing, and event support. Across the Institute, there are more than 200 staff who allocate 40 percent or more of their time to these functions.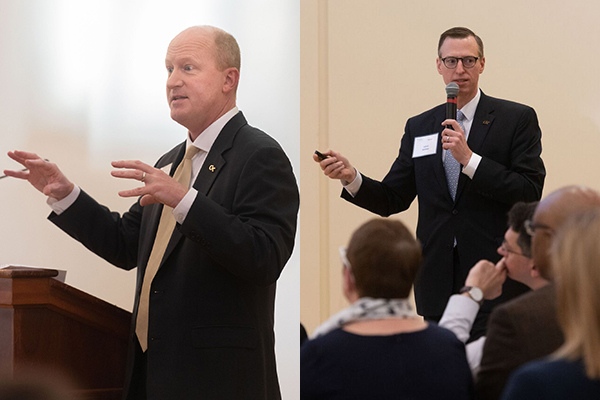 Dene Sheheane (left), interim vice president for Institute Communications and vice president for Government and Community Relations, sets the tone for the workshop, which included more than 150 invitees. Lance Wallace, director of media relations and issues management, reviews the survey data that reveals both best-in-class administrative functions as well as opportunities for improvement.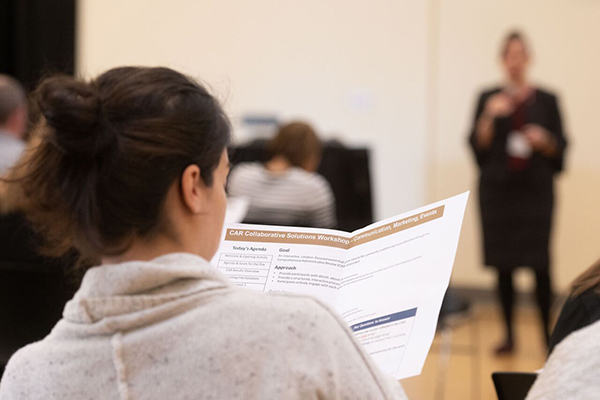 In his welcoming remarks, Sheheane said the workshop represented "an opportunity to bring your collective knowledge and experience to bear on the ways we can improve our collaborations, look for new ways to engage our stakeholders, and challenge ourselves to let go of inefficient ways of working. The jobs and the skills needed to perform [our function] effectively are evolving, and we should be thinking critically about how we are structured for long-term success."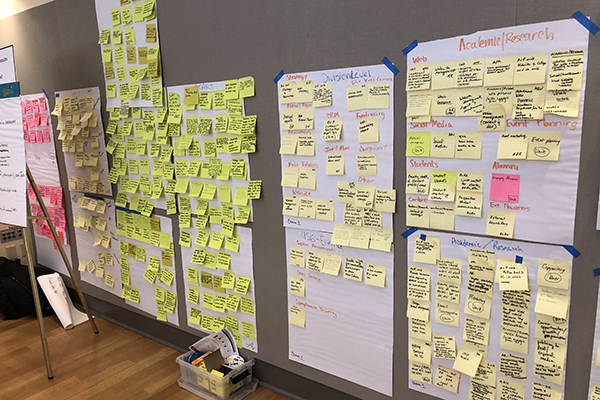 There was no shortage of feedback, as facilitators grouped the comments and suggestions into major themes, which will help to inform the working group's report and recommendations. Comments pictured here reflect thoughts on branding, marketing, media relations, and web presence.
---
The campus presentations about CAR have generated a number of additional questions from faculty and staff. The FAQ page has been recently updated to reflect these new inquiries. To submit a question, email askcar@gatech.edu.
---
Dec. 12, 2018


First Collaborative Solutions Workshop Held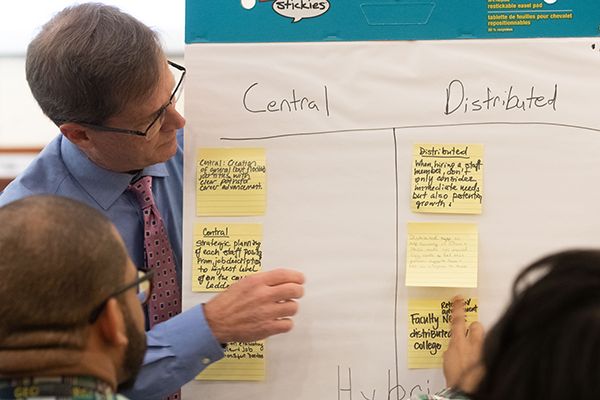 The first local action planning event, held on Dec. 12 in the Student Center Ballroom, focused on talent and people management, one of four areas of emphasis for CAR. Robert Foy, senior director of Institute Finance Support and member of the CAR working group, managed the feedback offered at one of the "solution stations" positioned around the event space. The stations were intended to encourage dialogue across organizational lines in an effort to identify opportunities that will lead to greater administrative efficiency across the Institute.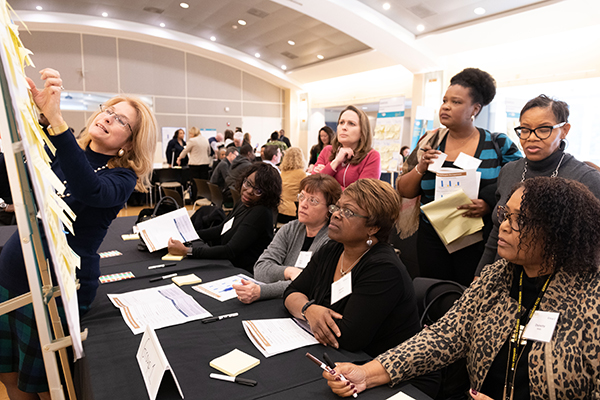 Groups rotated to each station, sharing their perspectives on the key issues related to people and talent management. More than 60 participants, chosen for their professional expertise or familiarity with these duties, were asked to share the aspects they believed are working well, what needed to be improved, and how the roles for central and distributed personnel can complement each other. Below, Juana Cunningham, a senior consultant in Tech's Office of Strategic Consulting and one of the workshop's facilitators, assesses some participant feedback.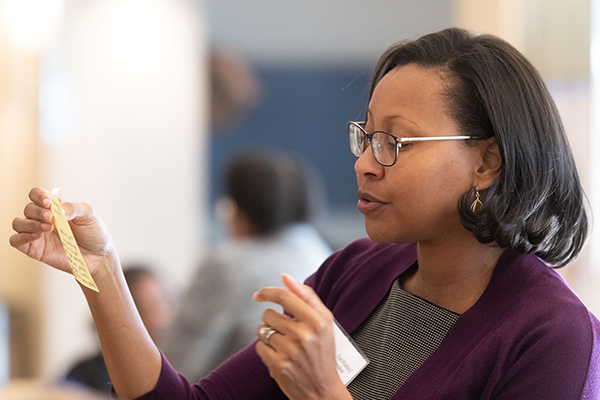 Three remaining workshops — one on communications, marketing, and events, one on information technology, and one on procurement — are scheduled for January 7-9, 2019.
---
The Georgia Tech Staff Council and Human Resources partnered to host a public forum on the Comprehensive Administrative Review in the Clough Undergraduate Learning Commons.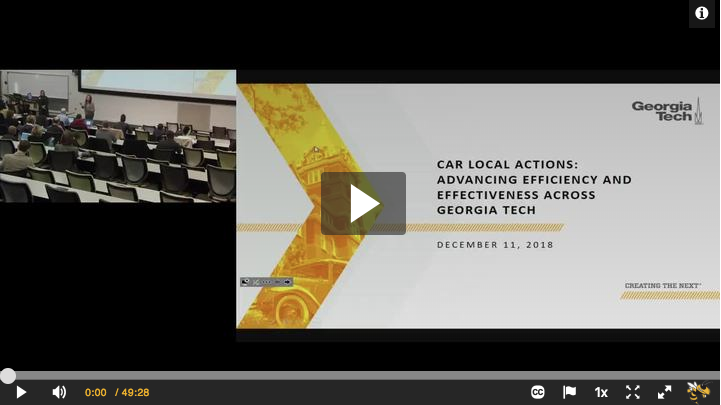 Note: Viewing the video requires a GT login (via CAS)
---
Nov. 28, 2018


CAR Progress Moves Forward; Working Group Plans Next Steps
An update on Georgia Tech's institutional effort to examine its administrative processes explains that the working group is nearing the end of its analysis, and preparing to engage campus expertise to identify solutions for its four areas of focus.
---
Nov. 7, 2018


Comprehensive Administrative Review Posts Questions and Answers
Communications with the campus community have generated some commonly asked questions about CAR. The questions (and answers) have been posted, subdivided into the following categories:
Value of the Process
The CAR Report
Action Planning Process
Impact of the Process
Existing Implementation Efforts
Community Involvement and Input
​New questions and answers will be posted based on campus feedback. To submit a question, email askcar@gatech.edu.
---
Sept. 9, 2018


President Peterson Updates Campus on CAR
In a message to campus, the president outlined the process so far, named members of the working group and decision group, and offered high-level results of the assessment, including areas of focus for improvement.
---
To submit questions or offer suggestions for process improvement, email askcar@gatech.edu.