Posted: July 18, 2020 2:35pm
The Georgia Tech community joins with countless others throughout the state and nation in mourning the death of civil rights icon and Congressman John Lewis Friday evening. An American hero, he represented our district in Congress for over three decades with a reputation for his commitment to the highest ethical standards and moral principles.
Congressman Lewis dedicated his life to protecting human rights, securing civil liberties, and building what he calls "The Beloved Community" in America. Despite more than 40 arrests, physical attacks and serious injuries resulting from his peaceful defense of civil rights, he remained a devoted advocate of the philosophy of nonviolent protest.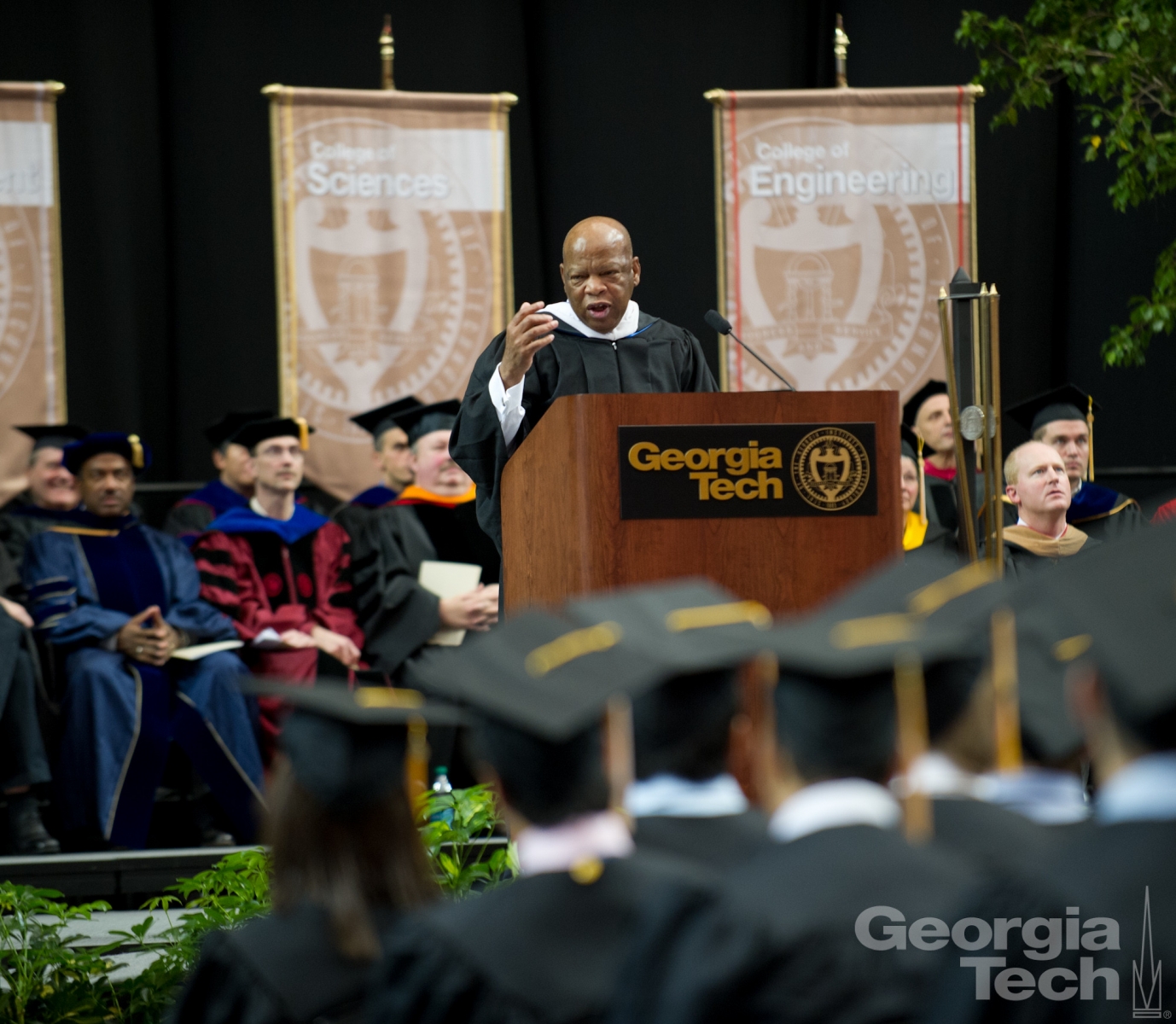 He was always willing to teach and inspire, and the Georgia Tech community had many opportunities to learn from him over the years. In his December 2011 commencement address, he said he considered himself at home when coming to Georgia Tech. He challenged our graduates to be leaders in society, stating that they were following in the footsteps of unbelievable men and women who paved the way. "You have a moral obligation to make our piece of real estate a little better, greener, cleaner, and more peaceful for an unborn generation—to make a way out of no way" he said. He talked about his early leadership in the Civil Rights Movement. "We used what we had to bring about a non-violent revolution—a revolution of values and ideas."  He told the graduates to use technology for good, to build and not tear down.  To bring people together, and not divide.  To create one community, one house.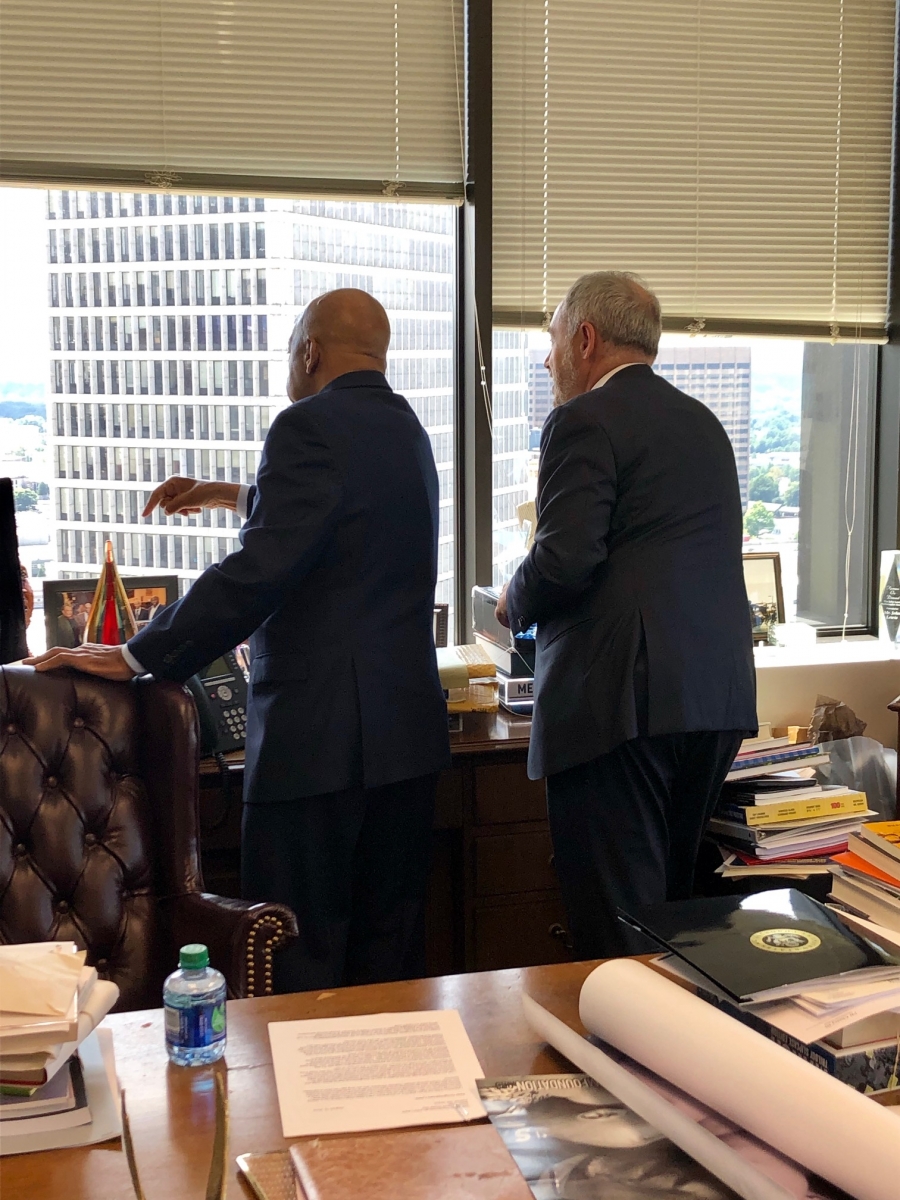 In 2013, Congressman Lewis was the recipient of Georgia Tech's Ivan Allen Jr. Prize for Social Courage, presented to individuals who, by asserting moral principle, have positively affected public discourse at the risk of their careers, livelihoods and, sometimes, even their lives. When accepting the award, he said, "I always did what I could do to help other people. I wanted to make a difference in order to meet the pressing need of people left out or left behind. I was inspired to find a way to a 'new way.' And this inspires me today, as I continue to keep pushing on." He continued to be an advocate for those who needed his help.
As chairman of the Student Nonviolent Coordinating Committee, John Lewis became a role model for generations of student leaders. At only 23, he was the youngest organizer and keynote speaker at the 1963 March on Washington. His lifetime of service and leadership is to be studied, remembered, and celebrated.
It is worth noting that we lost two civil rights icons on the same day, the Rev. John Lewis and the Rev. Cordy Tindell "C.T." Vivian. Both were mentored by the same person, and both mentored hundreds of others. Both were ordained ministers, men of great faith and courage. At 95, Rev. Vivian was John Lewis' senior by 15 years. As we reflect on Rev. Vivian's leadership and influence, we extend our sympathy to his family as well.
Over the years I have drawn profound inspiration from Congressman Lewis and his generation of civil rights leaders, many of them college students, who put their lives on the line to demand justice for the oppressed and build a better society for all.
His commitment to change never faded throughout his years in office. A few weeks ago, we contacted his office to ask for his assistance following some changes in student visa rules that would have affected many of our international students. In fact, his last posting on Twitter, dated July 10, 2020, was his letter requesting the reversal of the changes and his statement in support of international students.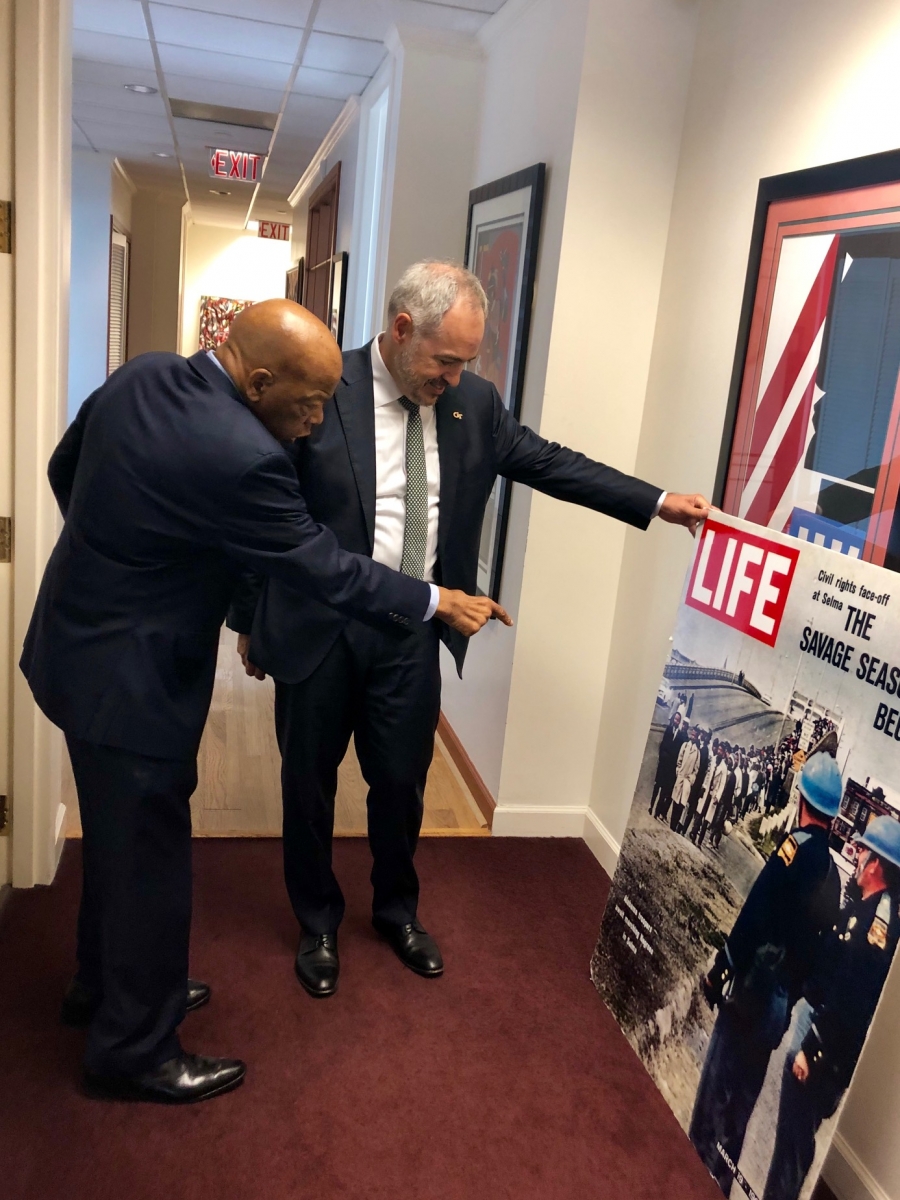 The week that Beth and I arrived in Atlanta to begin my role as Tech's president last summer, he was kind enough to invite me to his office to welcome me and wish me well. We immediately shifted our conversation to the Civil Rights Movement, to leadership and courage. He showed me some of the most iconic landmarks of the Civil Rights movement in Atlanta from his office window and then pulled out a few photographs he still cherished. I was particularly touched by the shot that made the cover of Life magazine, of that day in 1965 when he led a group of several hundred people across that bridge over the Alabama River in Selma. An entire nation eventually crossed that bridge with him, behind him, to reach a better, more just, place. And that act of courage sent a message of hope around the world that still resonates decades later. 
We at Georgia Tech send our most heartfelt condolences to Congressman Lewis' family, his staff in Washington and Atlanta, and to all of those mourning his passing. We will never forget his profound lessons of courage, of service, of a life well lived. Thank you, John Lewis.