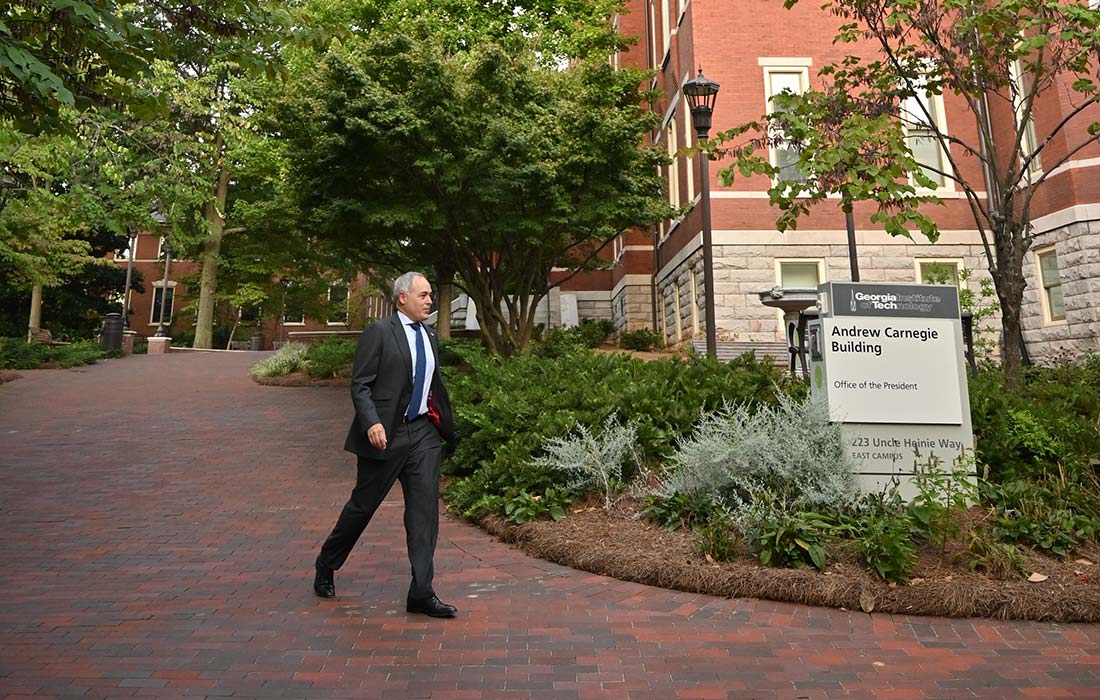 Today, I begin my service as Georgia Tech's president. 
I am thrilled to be back at a place that means so much to my family and me, and I am honored to be able to work with you and serve this remarkable institution.
Since I was selected in June by the Board of Regents, I have spent a great deal of time learning about the Institute. I have spoken with members of our administration and the University System of Georgia, board members, elected officials, alumni, and friends. I have read briefings and reports. Having been on the Georgia Tech Advisory Board for the most part of the last decade, I thought I was reasonably well aware of what was going on. But what Georgia Tech has accomplished over the last years is even more impressive than I knew. 
We attract some of the most talented students from throughout the state and around the world. We conduct groundbreaking research that makes a difference in people's lives. And we produce graduates who are making a real difference — innovating, creating economic opportunity, and solving some of the most complex problems we face as a society. Georgia Tech today stands as one of the world's great technological universities and as one of America's leading public institutions. Our Progress and Service motto couldn't be any more fitting.
As much as I have tried to prepare myself, I realize that there is much more I need to learn from you. I already have meetings scheduled with students, faculty, staff, and other stakeholders, and I know there will be many more. On Sept. 5 at 11 a.m. in the Ferst Center for the Arts, I will give my first Institute Address and will share my plans for the next few months. Among other things, I will announce a new strategic planning process during which we will have additional opportunities to engage in a dialogue about the future of Georgia Tech.
I am humbled to be following in the footsteps of great leaders who've steered us skillfully over the past decades. I am particularly thankful to my predecessor, Bud Peterson, for his extraordinary contributions to Georgia Tech and for all he's done to facilitate our transition.
I owe much to Georgia Tech not only professionally but personally. Beth, who grew up in northern Alabama, and I, who grew up in Madrid, met at Tech during orientation, started dating a year later, got married before we graduated, and have been together since. We have lived and raised our family in Spain, Arizona, and Virginia. But we have kept coming back to Atlanta, a place we've always considered our shared hometown. We are excited beyond words to be back in this great city and at a school that, quite literally, changed our lives.
Thank you for the warm welcome and for all you do to make Georgia Tech what it is. I very much look forward to getting to know you and working with you.
Go Jackets!
—Ángel Cabrera, President