The two weeks I recently spent in Europe helped me appreciate even more the international reputation Georgia Tech has developed, the global impact we have, and the value our global presence creates back home.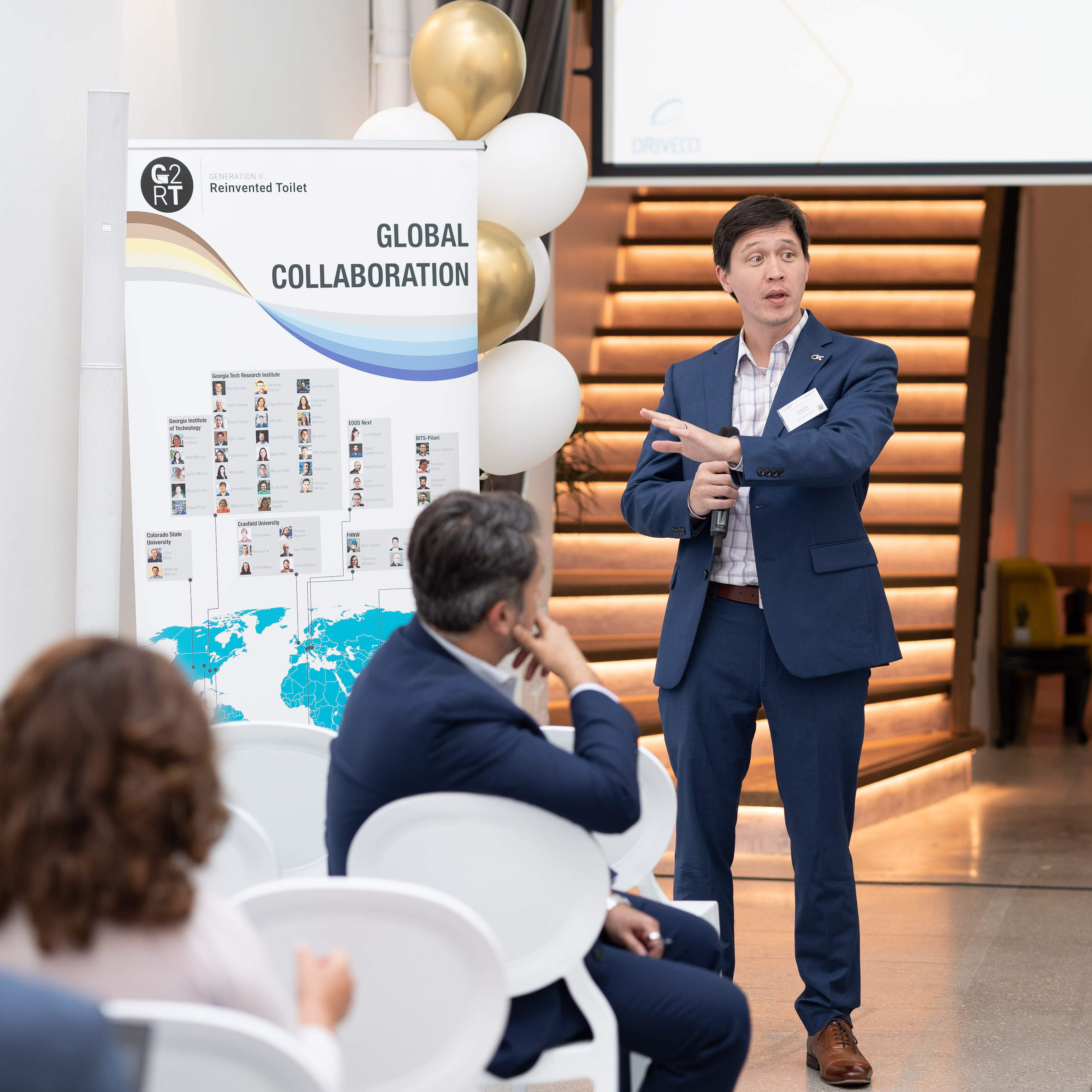 In Spain, I heard Professor Gleb Yushin from the School of Materials Science and Engineering present the latest in battery technology at the Bankinter Innovation Foundation's Future Trends Forum, where this year's theme was how to build a net-zero world. Professor Yushin discussed what companies like his own unicorn startup, Sila Nanotechnologies, are doing to bring new technologies to market, such as Sila's new partnership with German automaker Mercedes-Benz to produce an all-electric G-Class model. During an unprecedented heat wave in Spain, with gas prices at an all-time high, the urgency of this work couldn't be any clearer. 
In Paris, I heard Professor Shannon Yee from the George W. Woodruff School of Mechanical Engineering present his work with the Bill & Melinda Gates Foundation on the Generation II Reinvent the Toilet (G2RT) program, where he has led a global network of engineers to solve a massive public health crisis affecting billions of people without access to modern sanitation. Professor Yee was on his way to Georgia Tech-Lorraine, our international campus in Metz, France, to recruit a global manufacturer that will bring the new appliance to markets around the world. 
I, too, headed to Metz for a long-overdue visit to our European campus. Together with Vice Provost for International Initiatives Bernard Kippelen, College of Engineering Dean Raheem Beyah, and Georgia Tech-Lorraine President Abdallah Ougazzaden, we discussed our plans for growing our campus and programs with local leaders and government officials who have been our partners for more than three decades. In addition to hosting our largest study abroad program, our campus in Metz is home to several advanced research programs as well as the Institut Lafayette, a collaborative platform for the advancement of semiconductor materials, optoelectronics, and prototyping.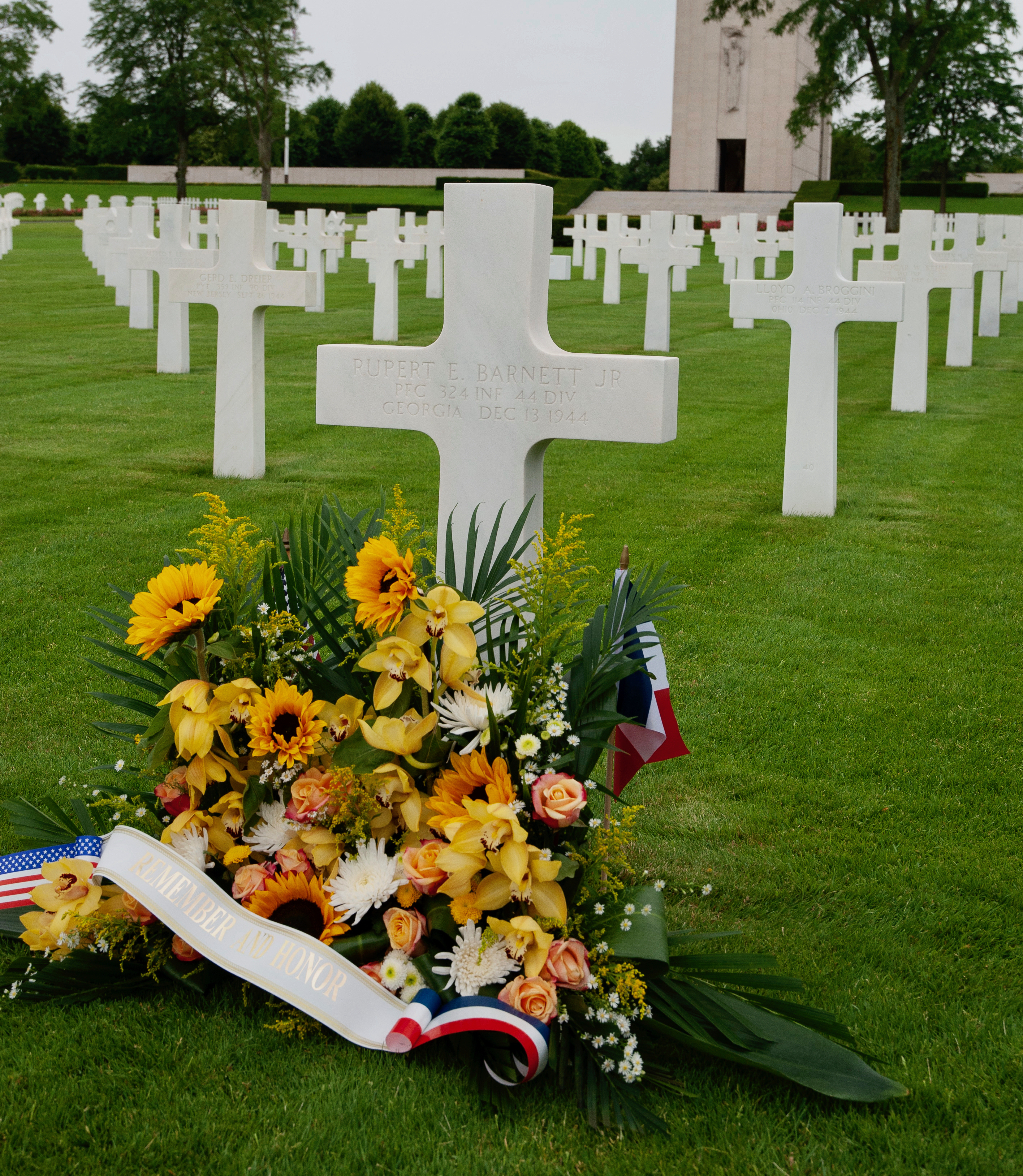 Our group, together with students and other colleagues and guests, joined in a visit to the nearby Lorraine American Cemetery. We paid homage to the thousands of American soldiers who died in World War II and were deeply moved when we placed flowers on the tomb of one Rupert E. Barnett Jr., a Georgia Tech student and U.S. Army private first class with the 324th Infantry Regiment, 44th Infantry Division. Rupert was about the same age as our students when he was killed in action near Metz on Dec. 13, 1944, just a few months before he should have walked across the stage to receive his degree. Together with the students, we reflected on how different Rupert's tour of Europe was from ours and how much we owe him. He paid the ultimate sacrifice for the freedoms we now enjoy and take for granted. 
During the visit, I kept thinking about how fortunate our students are to have access to this truly transformative learning experience in Europe, an experience they will never forget and that will shape their view of the world. Georgia Tech stands out for the number of students we send abroad, which is several times higher than the national average and even more extraordinary among engineering majors. For many of our students, their Georgia Tech international experience is the first time they travel abroad, and we are committed to ensuring all our students have the opportunity to see the world through our various international and exchange programs. 
In Paris, we also met with impressive Georgia Tech alumni who are innovating and leading businesses in Europe. We heard presentations from entrepreneurs who are developing sustainable energy sources to charge electric vehicles and producing sustainable leather by growing tissue in labs. Colleagues from Tech's Office of Development organized a fun reception with alumni and a wonderful dinner with an impressive group of alumnae who created the GT Women of Influence group. I was inspired by their careers and wish I could have taped some of the testimonials to share with women studying at Tech today. 
Georgia Tech has become a globally recognized institution while remaining proudly committed to serving our state. In fact, the former is essential for the latter, as our global reputation and connectivity multiply the value we bring to our state — by attracting talent and resources, expanding opportunities for our students, and building bridges with other important economic hubs. Just as the Port of Savannah is our state's main global gateway for trading goods, and Hartsfield-Jackson Atlanta International Airport is our gateway for global travel, Georgia Tech has emerged as our state's main global gateway for talent, innovation, and ideas.