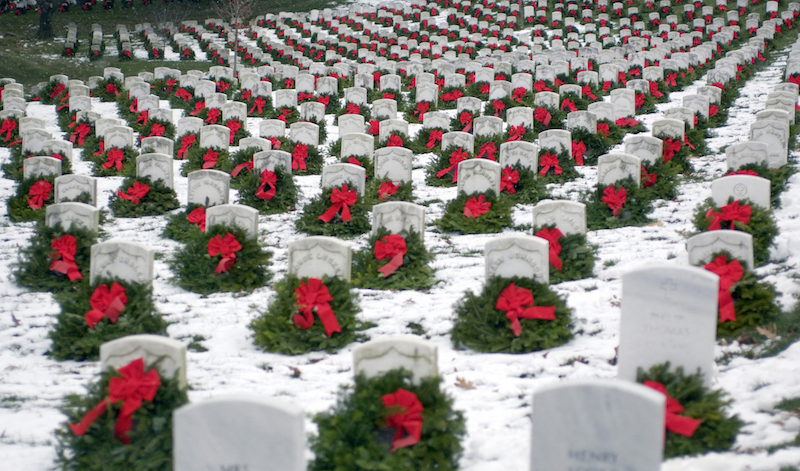 On Nov. 11, 1921, America paused to acknowledge the contribution of one of its heroes. Along with thousands of citizens, President Warren G. Harding, former President Woodrow Wilson, Supreme Court justices, congressional leaders, and international diplomats assembled at Arlington Cemetery in Washington D.C. to memorialize a fellow American and World War I casualty whose name, origin, and personal history were — and remain — unknown.
Today, our country's Unknown Soldier is interred in front of Arlington's Memorial Amphitheater, his crypt bearing the famous words, "HERE RESTS IN HONORED GLORY AN AMERICAN SOLDIER KNOWN BUT TO GOD." The somber, compelling backstory of how this simple soldier came to occupy an exalted place of honor is recounted in this Washington Post story, which seems appropriate to share as we approach Memorial Day 2019 on May 27.
We close Georgia Tech's campus on Memorial Day to honor and remember those who gave the ultimate sacrifice to our country, which remains a beacon for freedom in a tumultuous world. Americans in all 50 states and abroad are encouraged to slow down, reflect, and consider the high cost paid by so many who have come before us. This time of year is especially poignant for "The Greatest Generation" that lifted America through World War II's dark days. Seventy-four years ago, they were young men and women, many the age of our students today, when Germany signed an act of military surrender, and the world celebrated V-E Day — Victory in Europe — on May 8, 1945.
On May 23 from 1 to 3 p.m., Georgia Tech's Veterans Resource Center will commemorate in advance this important day with displays and information in the Piedmont Room in the Stamps Student Center Commons about the Institute's proud military history. Refreshments will be served, and we invite everyone to stop by and learn about this part of our history.
Both our nation and Georgia Tech share ties with France that are solemnized and strengthened by the sacrifices of our military veterans, from the Revolutionary War onward. Thousands of American dead from both World Wars have their final resting place in France, and the Unknown Soldier was slain while defending France. A layer of French soil was placed beneath his final resting place in Arlington Cemetery. Without that unbreakable relationship, forged by sacrifice and blood, we might not have reached the commitment a quarter-century ago to establish Georgia Tech-Lorraine in Metz, France.
Reminders of sacrifice by Georgia Tech students can be found all over our campus, a sobering reminder of war's steep human cost. Our students often run or walk along the Tyler Brown Pi-Mile Trail, dedicated in April 2005 to former Student Government Association President Tyler Brown — later U.S. Army First Lieutenant Brown — who was killed in action at age 26 on Sept. 14, 2004, while supporting Operation Iraqi Freedom. As a student, Tyler often took pre-dawn runs on campus as part of his ROTC training and lobbied as a campus leader for a safe, well-lit campus running trail.
Each year, Georgia Tech's Military Affinity Group honors his memory with the presentation of the Lt. Tyler Hall Brown Outstanding ROTC Student Awards. The Institute also offers the Lt. Tyler Brown Scholarship to entering freshmen from his high school alma mater, Woodward Academy in College Park, Georgia, who have exemplified Tyler's leadership qualities.
The Memorial Mall at the entrance of our Wardlaw Building on North Avenue was funded by the World War II classes of 1944-46. One of those memorialized is Clint Castleberry, the only Georgia Tech football player to have his jersey number (19) retired; his likeness is featured inside Bobby Dodd Stadium. In 1942, Castleberry led the Yellow Jackets to an unexpected 9-2 record and finished third in the Heisman Trophy balloting. Following the season, he and 17 other Tech players were called for duty in the Army Air Corps.
Castleberry and three others were reported missing Nov. 7, 1944, on a flight from Liberia to Senegal in west Africa. That status was changed to killed two weeks later, placing them among the more than 405,000 American military members who died while serving during World War II.
Memorial Day 2019 will represent an opportunity for many of us to socialize with friends and family, and remember those who have made our freedoms possible. We hope that as part of a safe and meaningful Memorial Day, you'll take the opportunity to reflect upon and honor all those who have served, and especially those — the known and the unknown — who gave the ultimate sacrifice so that we could live in freedom. God bless America!
G.P. "Bud" Peterson
President