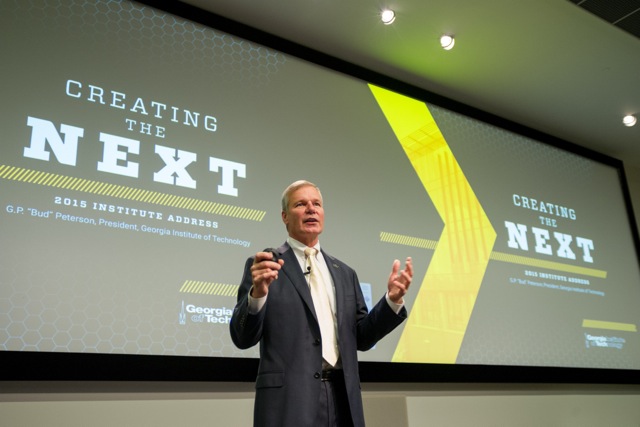 In his 2015 Institute Address on Aug. 27, President Peterson focused on momentum and innovation at Georgia Tech, highlighting ways that the Institute is "Creating the Next." He talked about recent Institute achievements, conveying his vision and goals for the upcoming academic year, and answering audience questions.
Included in his comments were research advances at Georgia Tech, dramatic new campus improvements, the introduction of Campus Safety and Wellness initiatives, signal events, and the culture of entrepreneurial confidence that is growing throughout the Institute.
He said that for the seventh straight fall semester, Georgia Tech welcomed the best-qualified, most diverse freshman class in Georgia Tech history. The incoming class includes more than 40 percent women, an all-time high in the number of African-American students, and an increase in in-state enrollment of five percent. He said we are committed to creating an environment that helps them reach their full potential, in and out of the classroom.
Peterson talked about innovation as an Institute imperative, in education as well as research. He also talked about maximizing leadership opportunities for students, enhancing the residential experience, the library renewal project, the High Performance Computing Center, and supercharging Atlanta's entrepreneurial ecosystem.
Institute Address Presentation Slideshow